Born of Adventure
The ultimate adventure machines
This is Venturo, the manufacturing company birthed by The Adventurists. We're building the greatest adventure machines for planet Earth and beyond.
And so behold, our opening gambit, the Venturo Mark 01 Custom. A machine that brings giant adventure in a tiny package. The small batch motorcycle redesigned from the frame up from years of breaking them in places like the Amazon rainforest and the Sahara desert.
This cheeky little number is ready for adventure anywhere. A fact we aim to prove with your help.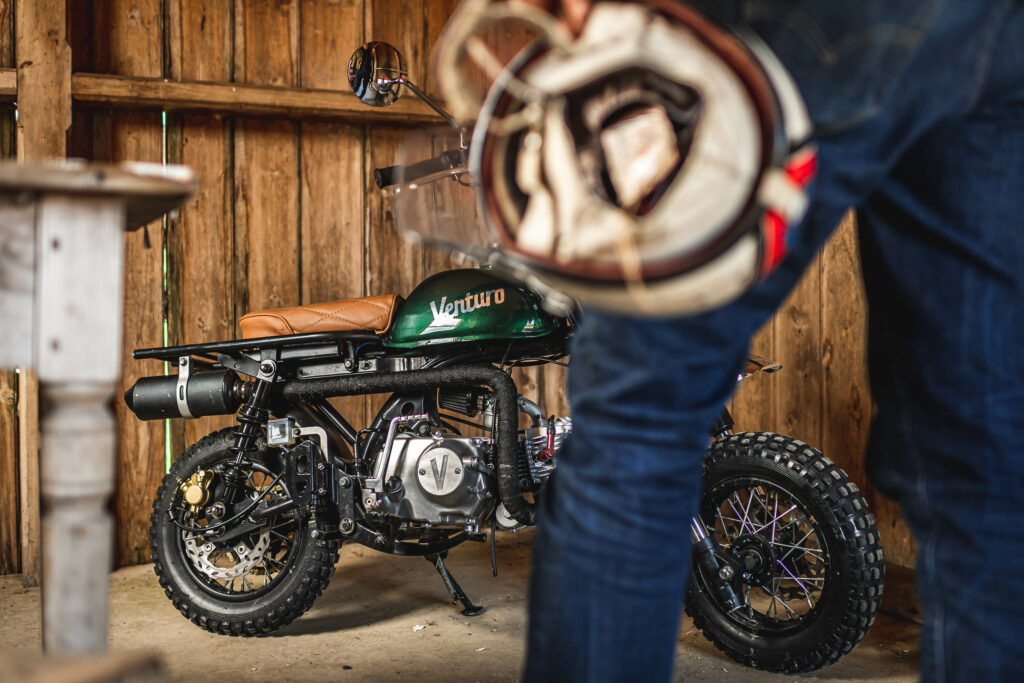 Earn it
You want it. But you can't just buy it.
That would be far too pedestrian. We're not going to just let you order a Venturo. This is an Adventure Machine, its job is to bring adventure into your life. So once you buy your stead you can't just pick it up from a showroom. You have to come and get it. From somewhere ridiculous.
When your Venturo is ready we'll give you a coordinate. Once you make it to where your machine is lurking, you can simply take it home. Well, almost simply, because we'll have made sure that's not possible without a mini adventure.
We're releasing these beasts in batches and you will be given a choice of dates to extract it from the designated location of great inconvenience.
Flying Option – Prototype 02Oh yeah, it flies
How often have you found yourself thinking "I wish this could fly"? Us too. So we made sure the Venturo Mark 01 Custom does. With the ever-so-handy optional flying package.
Prototype 02 was concocted and the World's only flying-motorbike test pilot, Brian, took it out for a waft the other day. Turned out rather well so we've dived right back into the research for Prototype 03.
The rear rack of every Venturo is designed to connect to the flying package should you feel the need. Which presumably everyone will.
Once we're happy it's stupid enough, we'll release the wholly inadvisable optional flying add-on to all owners. In the meantime you can catch up on the research progress with this handy video.
Only 6 Mark 01sBuilt in the UK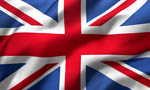 Venturos are hand built down in our factory in Dorset with our chums at Gilo Industries.
The very definition of limited edition, there will be only 6 Mark 01s ever built. The Mark 02 will be a slightly larger batch of bikes (Mark 02 will be a similar model).
| | |
| --- | --- |
| PRICE: | £3,399 (inc. mini-adventure) |
| COLLECTION DATE: | January 2022 (TBC) |
| COLLECT FROM: | Dark corner of Scotland (UK Registered bike) |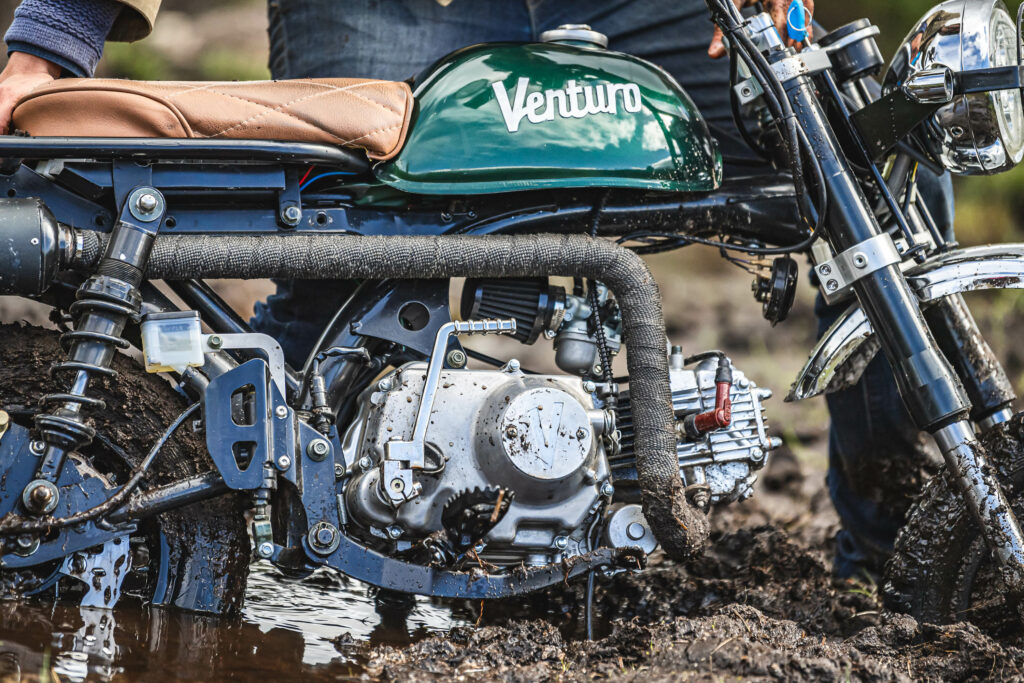 What makes a Venturo
From the rear rack, the wheels, the suspension, the exhaust, the lights, the engine, the speedo, a whole new electrical system with a hidden lithium battery and a plethora of other modifications we've made the ultimate custom miniature adventure machine.
And we've slapped on a 1 year warranty.
But for those who want something more "detaily" take a gander at the specs.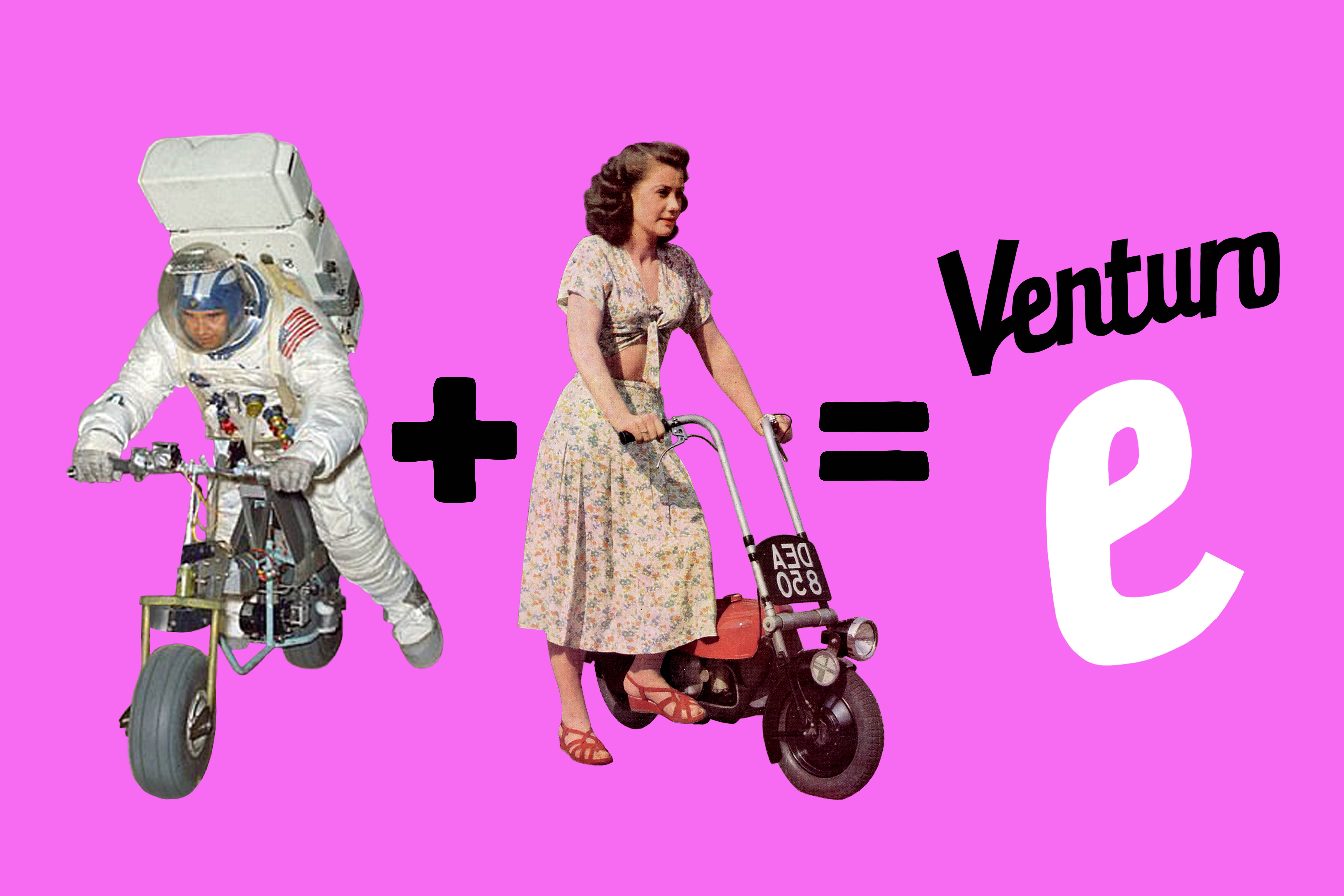 Cometh The Electric
The Custom might be our opening gambit but we started work on The Electric first.
Prototype 1 rolled out of the lab back in Summer of 2020 and despite looking like the love child of Mad Max and a Xerox machine it was capable of ripping the ground a new arsehole. The  World's first electric Venturo was born.
The Electric is a machine that will bring adventuring to all corners of the Solar System.
Follow the button to find out more…